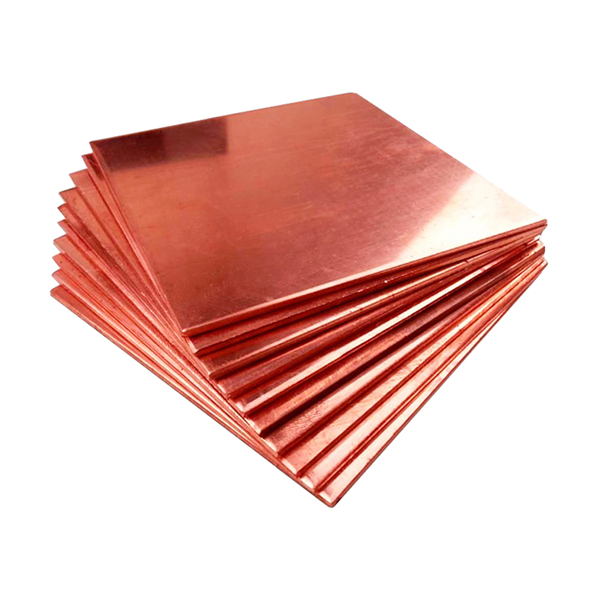 Copper Sheet
Product Description
The copper sheet is used for a variety of applications including construction and architecture, auto manufacturing, electrical components, marine applications and HVAC systems. The high purity (99.92-99.97%) of copper sheet provides the premium quality needed f or many projects and applications in a wide range of industries and uses.
Copper sheet and plate are often red and pink in color and is known for its malleability and ductility. Copper sheet and plate provide excellent strength, good corrosion resistance, superior electrical conductivity and non-sparking capabilities.
Our copper sheet and plate are available in thickness from 0.3mm to 10mm, and with temper in 1/4 hard, 1/2 hard, 3/4 hard, hard and annealed. Our copper sheet and plate conform to ASTM B152 standard and ASTM B370 standard.
Material
Copper sheet and plate are made from material in compliance with:
C12200 (Cu-DHP) alloy, with copper content more than 99.90% and with phosphorous range of 0.015% to 0.040%
C11000 (Cu-ETP) alloy, with copper content more than 99.90%, with superior electrical conductivity more than 100% IACS
Key Feature
Excellent strength, good corrosion resistance
Superior electrical conductivity, more than 100% IACS
With PE film in the main side of copper sheet to keep bright surface
Strong sea-worthy wooden case for maximum protection
Thickness available from 0.3mm to 10mm
Full range of temper: 1/4 hard, 1/2 hard, 3/4 hard, hard and annealed
Standard: ASTM B152, ASTM B370
Technical Properties
Copper Alloy

Chemical Composition

Temper

Mechanical Property

Electrical Conductivity

IACS (%)

Copper

%

Phosphorus

%

Tensile Strength

MPa

Elongation

%

C12200

≥ 99.90

0.015-0.040

1/4 Hard

235-295

≥ 25

/

C12200

≥ 99.90

0.015-0.040

1/2 Hard

255-315

≥8

/

C12200

≥ 99.90

0.015-0.040

3/4 Hard

285-345

/

/

C12200

≥ 99.90

0.015-0.040

Hard

295-360

/

/

C12200

≥ 99.90

0.015-0.040

Annealed

205-260

≥ 30

/

C11000

≥ 99.90

/

1/4 Hard

235-295

≥ 25

≥ 97

C11000

≥ 99.90

/

1/2 Hard

255-315

≥8

≥ 97

C11000

≥ 99.90

/

3/4 Hard

285-345

/

≥ 97

C11000

≥ 99.90

/

Hard

295-360

/

≥ 97

C11000

≥ 99.90

/

Annealed

205-260

≥ 30

≥ 100
Specifications
Alloy

Form

Temper

Size (mm)

Thickness

Width

Length

C11000,

C12200

copper sheet

copper plate

Hard, 3/4 Hard,

1/2 Hard, 1/4 Hard, Annealed

0.3- 0.5

≤600

≤3000

≥0.5 - 3.0

≤1000

≤3000

≥3.0 - 10.0

≤3000

≤6000