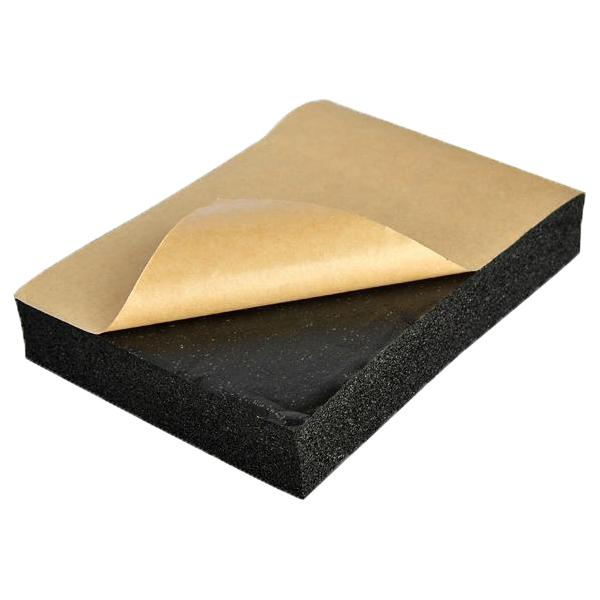 Insulation Sheet
Product Description
Insulation sheet is NBR/PVC closed cell, flexible elastomeric foam insulation. It is used to conserve energy and prevent condensation on large pipes, ducts, vessels, tanks and equipment. It is environment friendly as free of CFCs, formaldehyde and fibers.
Insulation sheet is used to retard heat gain and prevent condensation or frost formation on below-ambient applications, including utility and industrial process equipment, tanks, vessels, ducts and large diameter pipes in refrigeration line, HVAC systems. It can be used with heat tracing tapes. Insulation sheet also retards heat loss from medium hot surface.
Insulation sheet is flexible even at low temperatures. It is durable and safe to handle, and lightweight for an efficient installation. Insulation sheet can be installed onto large OD round surfaces or flat surfaces. For round surfaces of piping or ductwork, the sheet should be wrapped around the pipe and sealed at the longitudinal seam with an approved contact adhesive.
Our insulation sheet is available in a range of wall thickness from 1/8" to 1-1/4". It is 25/50 rated (flame spread rating of 25 or less and smoke development rating of 50 or less) according to ASTM E84 standard (Surface Burning Characteristics of Building Materials). Insulation sheet is available in color of Black, Green, Blue and Red.
Key Feature
Closed cell flexible elastomeric foam insulation
Cold weather flexibility, durable skin surface and lasting performance
Environment friendly, NO CFCs, NO formaldehyde and NO fibers
Retard heat gain and prevent condensation
25/50 rated according to ASTM E84 standard
Working Temperature: -40°C - +110°C
Standard: ASTM C534 / ASTM E84 (25/50) / BS 476-6 (Class 0) / BS 476-7 (Class 1, Class 2)


Technical Properties
Item

Index

Material

NBR/PVC

Foaming Structure

Fully Closed Cell

Density

50-95kg/m³

Material Type

Totally I

Burning Performance

Hard to Burning

Oxygen Index

≥32%

Smoke Density

≤75%

Smoke Poison

ZA3

Combustion Shape Appearance

Carbonization, no contraction, no droplet

Thermal Conductivity Coefficient

W/(m.k)

-20°C

0°C

40°C

≤0.031

≤0.034

≤0.036

Water Vapor Permeability

Coefficient ≤ 2.8 x 10ˉ¹¹g (m.s.Pa)

Factor (u) ≥ 7000

Water Absorption in Vacuum

≤10%

Dimension Stability

105°C±3°C 7d≤10%

Rebound Rate after Compression

Compression Rate 50%, 72h≥70%

Ripping Intensity

≥2.5N/cm

Aging Resistance

150h, slightly crumpling, no crack, no pin hole, no deforming

Ozone Endurance

Ozone suppressor 202MPa 200h no crack

Working Temperature Range

-40°C - +110°C
Size Range
width

Thickness (mm)

3

(1/8")

6

(1/4")

9

(3/8")

13

(1/2")

15

(5/8")

19

(3/4")

25

(1")

32

(1-1/4")

1m

√

√

√

√

√

√

√

√

length

30m

30m

20m

15m

10m

8m

8m

6m