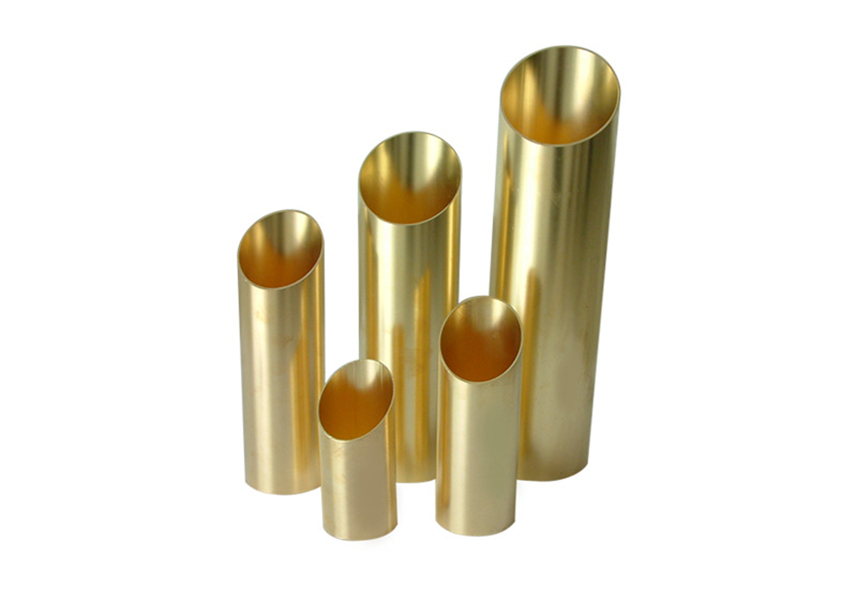 Round Brass Tube
Product Description
Brass tube is primarily used in water pipes, gas pipes, air conditioning pipes, refrigeration pipes and firefighting fields. It is with high strength, outstanding thermal conductivity even in low temperature conditions.
Brass pipes are sturdy and corrosion-resistant, making them the first choice for modern contractors in the installation of water pipes, heating and cooling pipes in all residential commercial buildings. The shiny surface of brass tube also makes it ideal for interior decoration, buildings, pubic art and musical instruments.
Our brass tube is available in nominal size from 1/4" to 3" (from 6.35mm to 76.2mm). The range of brass tube is available as hard temper, half hard temper and soft annealed temper. The brass tubes are manufactured according to ASTM B135, ASTM B111 standard.
Material and Temper
Copper Alloy

Temper

Standard

C23000

O60 (annealed)

H58 (half hard)

H80 (hard drawn)

ASTM B135

C26000

O60 (annealed)

H58 (half hard)

H80 (hard drawn)

C27000

O60 (annealed)

H58 (half hard)

H80 (hard drawn)

C27200

O60 (annealed)

H58 (half hard)

H80 (hard drawn)

C27400

O60 (annealed)

H58 (half hard)

H80 (hard drawn)

C28000

O60 (annealed)

H58 (half hard)

H80 (hard drawn)

C33000

O60 (annealed)

H58 (half hard)

H80 (hard drawn)

C44300

O61 (annealed)

/

/

ASTM B111

C68700

O61 (annealed)

/

/

C70600

O61 (annealed)

H55 (half hard)

/

C71500

O61 (annealed)

/

/
Key Feature
Excellent thermal conductivity
High strength
Corrosion resistance
Bright shiny surface
Each brass tube is individually eddy current tested to ensure zero defect
Bundled and wrapped in plastic or wooden case packing for maximum protection
Annealed temper, half hard temper and hard temper are available
Supply form: straight length
Standard: ASTM B135, ASTM B111
Technical Properties
Copper Alloy

Chemical Composition

Temper

Mechanical Property

Copper

%

Lead

%

Iron

%

Zinc

%

Tensile Strength

MPa

Elongation

%

C23000

84.0-86.0

≤0.05

≤0.05

remainder

O60

≥275

≥35

H58

≥305

≥20

H80

≥390

/

C26000

68.5-71.5

≤0.07

≤0.05

remainder

O60

≥275

≥45

H58

≥375

≥20

H80

≥450

/

C27000

63.0-68.5

≤0.10

≤0.07

remainder

O60

≥295

≥40

H58

≥375

≥20

H80

≥450

/

C27200

62.0-65.0

≤0.07

≤0.07

remainder

O60

≥295

≥40

H58

≥375

≥20

H80

≥450

/

C27400

61.0-64.0

≤0.10

≤0.05

remainder

O60

≥295

≥40

H58

≥375

≥20

H80

≥450

/

C28000

59.0-63.0

≤0.30

≤0.07

remainder

O60

≥315

≥35

H58

≥375

≥15

H80

≥450

/

C33000

65.0-68.0

0.25-0.70

≤0.07

remainder

O60

≥295

≥40

H58

≥375

≥20

H80

≥450

/
Copper Alloy

Chemical Composition

Cu

%

Sn

%

Pb

%

Al

%

Fe

%

As

%

Mn

%

Ni

%

Zn

%

C44300

70.0-73.0

0.9-1.2

≤0.07

/

≤0.06

0.02-0.06

/

/

remainder

C68700

76.0-79.0

/

≤0.07

1.8-2.5

≤0.06

0.02-0.06

/

/

remainder

C70600

remainder

/

≤0.05

/

1.0-1.8

/

≤1.0

9.0-11.0

≤1.0

C71500

remainder

/

≤0.05

/

0.4-1.0

/

≤1.0

29.0-33.0

≤1.0
Copper Alloy

Temper

Mechanical Property

Tensile Strength

MPa

Yield Strength

MPa

Elongation

%

C44300

O61

≥310

≥105

/

C68700

O61

≥345

≥125

/

C70600

O61

≥275

≥105

/

C70600

H55

≥310

≥240

/

C71500

O61

≥360

≥125

/
Specifications
W.T.

O.D.

0.5-0.6

0.6-0.8

0.8-1.0

1.0-1.2

1.2-1.5

1.5-2.0

2.0-3.0

3.0-4.0

6.35-12.7

(1/4"-1/2")

√

√

√

√

√








12.7-19.05

(1/2"-3/4")

√

√

√

√

√

√






19.05-25.4

(3/4"-1")




√

√

√

√

√

√




25.4-34.93

(1"-1-3/8")






√

√

√

√

√

√

34.93-50.8

(1-3/8"-2")








√

√

√

√

√

50.8-76.2

(2"-3")








√

√

√

√

√